« February 2006 | Main | April 2006 »
March 31, 2006
Is something in retrograde?
This morning on the bus, there was a lonely guy who was making conversation with everyone. At one point, he looked at someone I used to know, a butch woman, and told her that he (as in, she) looked like John F. Kennedy. He continued to chat with her for sometime, obviously never realizing that she was female.
To her credit, she was cool as a cuke. But how anyone could think she was a man, I really don't know.
After a bit of that, he started chatting with the woman behind me, who immediately began making conversation with me about my knitting and why were there, um, four, of those things?
(I'm working on an ip0d sock with cotton candy pink fixation [cotton/elastic] in the Pretty Comfy Sock pattern that's easy to memorize.)
...
It's a beautiful day outside. If I had managed to get myself out of bed early enough, I would have walked downtown, and if it wasn't date night, I'd have biked downtown. But alas. Anyways, I am still stuck with these horrible Jenny Lewis and Silver Jews cravings, and I think I'm just going to give in and buy them on my lunch.
Which should mean I'll get a decent walk in.
I'm anxious for the weekend, which already is getting full. Ack! I think I might try updating mov@bletype this weekend after I do hard backups of everything online. Oh joy!
I have a bit of trepidation about the update, but I've convinced myself I need the new features. Between all the blogs, I now have something like 1300 entries, and finding things in the guide is a pain—which is especially painful as I try to drag portions of it into this century.
...
The fallout is still happening about the fancy dinner Wednesday night. There were two tables, and from the descriptions, we might as well have been eating at different restaurants. There's been a "I'm the expert here" argument about authenticity, and someone has posted a review on their site based on that evening.
The thing is, restaurants love it when the group comes in, because they know that we talk and talk and talk about it. Usually, they cut us a deal, and we get an incredible spread. I think it's similar to when one of the food reviewers in town goes into a restaurant: since they all publish their pictures and use their real names, surprise surprise that no one is writing hard-hitting reviews, because they are most likely getting better food and service than other diners.
It wouldn't be fair to my readers to review a restaurant based on a special evening. I mean, are they going to be gifted smelt and get a tasting menu of 12 items for $30? Let me answer that for you: no.
I think the only thing that can be taken away from the experience is that evening at the same time, in the same room, with the same servers and same kitchen staff, that restaurant was inconsistent. That's the only conclusion that I can draw.
March 30, 2006
SABENA
A friend from college went back to Europe to see family, and they had scored a great deal on airfare. This is 20 years ago, a whole different world. Anyways, I remember when he got back, he told me that his father said that the airline name was an acronym for such a bloody experience, never again.
(oh, speaking of which, you've got to check out the best web site EVAR! I'll wait. Here it is: sabena.com - oh, and it only works in Internet Explorer 5! Dude! That's the best!)
That's how I feel about my dinner experience last night.
I went out with the food group to a well-regarded, very hip restaurant last night. Our ringleader put a lot of work into working with the restaurant to get a reasonably priced meal for us. And the restaurant is beautiful.
So here's how it all went wrong.
Our long long long table is along the wall. If anyone who is sitting on the wall side needs to leave the table, everyone else on the way to the end of the table must also get up. Guess where I was sitting?
So me, my claustrophobic self who was tired and iffy about being there, who had a sicky boyfriend at home, is stuck on the wrong side of the table. The walls are made of concrete, and all the sound bounces, making it hard to hear the person directly across from you.
Grumble, grumble, grumble. And then the food took three hours in coming and was in tiny, excruciating slow doses and sure some of it was really good, but all I wanted to do was go home.


Okay, enough of my grumpiness. I've been obsessed with a couple things that were on the videos this weekend. Like Jenny Lewis and The Watson Twins' Rise Up with Fists. I don't know if the video is an homage to Hee Haw, or to the Grand Old Opry, but I love it. Visually, I don't think it needs the Sarah Silverman-Hee Haw gags—it's a sleeper, but once it has its hooks in you, damn. Jon, I think you'd like this a lot.
Unlike having to see Jenny Lewis multiple times before it had its claws in me, the Silver Jews—man!—all I gotta do is see one of their videos once, and I'm sank. Like this latest one, Sleeping is the Only Love—brilliant. (You Tube, why do you let me down? Where's the video??)
Okay, so now I am totally infatuated with the cape that Cassie is wearing over her ceili/Irish dancing dress while riding a bicycle. Yes, I must knit a cape. If you would have asked me two days ago about the gauchest thing you could knit, I may well have said a cape. Now, I must knit one. Reversible. And maybe a ceili dress.
How Can I Love You (If You Won't Lie Down)—also brilliant. Though no capes.
March 28, 2006
flake, continued?
I was riding the scooter over to drop off the sample knitting last night when I started to feel queasy. My stomach and I are never on the best of terms, and it's been really rough lately.
Still, I had a great bicycle ride home. Very very slow, but pleasant and not too excruciating, even though the tires were soft.
Anyways, I'm on the scooter, and I'm thinking it's nerves. Even as I'm getting better about commitments, agh.
By the time I drop off the knitting, I'm feeling pretty bad. And on the ride home, I'm feeling the old am-I-going-to-vomit-into-my-full-face-helmet? Am I going to make it home?
I did. But I feel pretty crappy. I'm feeling past the worst of it, but my insides hurt something awful. Hopefully this is just a momentary blip.
March 27, 2006
Flaky like a biscuit
It's a beautiful morning out there. I'm hopeful that today will be the day that I get to ride my bike back home, and I can begin bike commuting anew. It's been in the parking garage at work for, umm, weeks now. I miss it. A lot.
I hate getting up in the morning, looking outside and seeing a perfect bicycling day, and knowing that I already have a bike waiting for me at work. Hopefully, today, I can make things right.
The weekend: well, it was great and it left a lot to be desired. The sample knitting is going really slowly. Really slowly. I hate it. It's beautiful but I hate it. I'm used to patterns that you can easily memorize, but with this, I have to count out each stitch, and compare it to the pattern. Intarsia and Fair Isle have been easier than this pattern, and I don't know what that's about. Maybe the deadline?
My desire to start some new knitting project seems much stronger than it did during the knitting olympics. All I can think about are the projects that I've promised to Sweetie's mom and stepdad. And yet. I hate being a flake on the sample knitting. I've managed volunteers before: flakes are just a pain. And I am definitely a flake in this category.
So anyways, I spent a bit of the weekend avoiding the sample knitting. I could have been decluttering, or working on the yard or career stuff or the guide, but mostly, I was just procrastinating on the sample knitting, which meant I got very little done indeed. Sigh.
When I first got the sample knitting, I wrote my coordinator back and said that I was afraid that I had bit off more than I can chew, and I never got a response. Rationally, I know she may have never gotten the email, but emotionally, I'm sure she hates me and wants to taunt my dog. Realistically, I'm sure she's used to flakes, and she probably builds that into her timelines (I hope).

March 26, 2006
the walking season begins!
Yesterday was the start of the walking season. It was opening day at Portland Fit.
I wasn't feeling so hot. However, a coworker has joined, and has been checking in with me every couple of days about walking, and I was anxious to see my community of walkers and runners, so I went, telling myself that I could bail before the walk if I was still feeling bad.
The pavement was wet, and the skies were grey, but the crowds were huge. I immediately saw a number of people, and loved the fact that they called out my name upon seeing me. It's one thing to be known by sight, but a person's name is the sweetest sound.
So it felt like old home week. I chatted with lots of folks, and I'm sure missed others—like Hollie, where was Hollie?—it felt really good.
We did our three mile walk—up and back on industrial Naito Drive—and it felt good. I talked to some new people, and some folks I recognized. And it was fun, with the exception of two folks who were clearly hungover and were complaining the whole while. I had to remind myself that I had to figure out how not to be hungover on Saturday mornings—it was part of the learning process. But the complaining!
Marathon training isn't an easy thing. It's not impossible, and really, if you do the program, it's not very often hard. But it does require work, laying the groundstone with your first formal walk, and it does require some commitment: getting up early on Saturdays, and giving up the staying out late and carousing on Friday nights.
I think this was part of why I wasn't such a great AC—I don't have a lot of patience with those sorts of complaints. Do it or don't do it. In the end, we each have to take responsibility for following through. And it's not like I don't complain—I do. I don't follow through sometimes.
Heavens knows, I've had a rough winter where I didn't exercise much, and all my hard work in the way of fitness and diet disappeared. While I'm amazed at how quickly it happened, I'm the one who chose to focus on other things.
I'm excited about the fresh start. The new beginning. Spring!
March 24, 2006
watch out!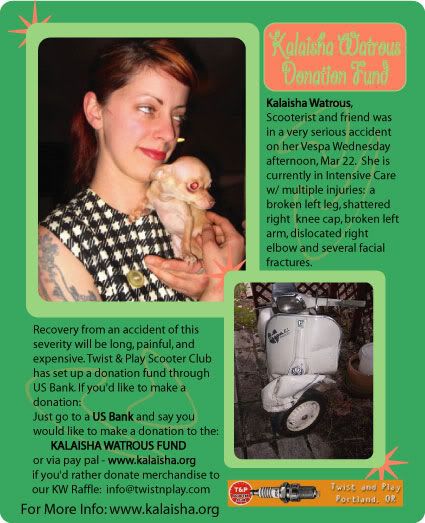 Advice for two-wheeled commuters
A scooterist got into an accident the other day. It wasn't her fault, a car ran a stop sign and pulled out in front of her, and she hit the door, and flew over the car. She's broken all of her extremities and will be having facial surgery soon. And, she has no health insurance.
Her full-face helmet saved her life.
Though I knew this before, it bears repeating. If you're on any sort of bike, remember:

everyone is out to get you


the drivers don't see you


they aren't paying attention


they're talking on their cell


they're thinking about their loved ones


they're late to work


they've had bad news


even if they've made eye contact, have they actually seen you?


people are idiots


they're inebriated or they're tired


assume the worst


always have an exit strategy


If you'd like to give a donation, you can do so at any US Bank—just say you would like to make a donation to the Kalaisha Watrous fund.
So f#$%g cute, it makes you wanna puke
This morning, I had pulled my scooter out of the shed when Fuggles, the worlds cutest kitten, walked up. She rubbed up against my leg once or twice, and I turned away to put on my helmet, because you know, I had places to go and people to see. I turned back around, and there she was, with her rear legs on the seat of the scooter, and front legs on the handlebars. And muddy pawprints all over the place. Oh!
March 23, 2006
Workshops improve our skills
I am now wolfing down lunch before heading into work. I am so very glad that I attended that workshop this morning.
I started having some remorse about it while I was getting dressed. "I probably am going to know all this". "There probably isn't going to be anything new". Yeah, right!
It was great—I ran into an old acquaintance there, as well as a coworker who I had no idea would be there. So I actually knew some people. And I was good, and introduced myself to others. Gave away some marketing ideas, too.
Anyhow, the 3 plus hours of the workshop flew, and I was really captivated. Great speaker, great topic, not a whole hell of a lot there that I knew, lots of research to back it up.
I'm not looking forward to trying to sell it back at the office, but I'm glad I'll have back up.
March 22, 2006
woot!
I've just had a triumph. Escape velocity!!!
My boss mentioned a seminar yesterday—would I be interested in going? Yes! And the more I thought about it, the more it was clear that I really wanted and needed to go to that seminar.
And then I ask my boss if I'm going, and he says it's sold out. Sold out?? But I need to attend it! So I ask if he minds if I try at the door tomorrow morning. And then as I'm checking online about it, I find a name and a phone number. So I call.
It's not the right person, but she's pretty sure it's not full, and she gives me another number. So I call that. And I'm assured it's not full, and just to come with $$ tomorrow morning. Yeah!
I am so excited!
...
Sometimes, I really get into pilates, but last night was not one of those nights. The entire 45 minutes was agonizing. We have Thursday night off, so I can look forward to going back in on Tuesday completely outta shape again, dammit.
But there is a bright spot. I can finally visualize my core, the layers of muscles contracting. I don't know about you, but I can't really do something like that without being able to visualize it. So it's a huge breakthrough.
March 21, 2006
needs and wants
In a consumer society there are inevitably two kinds of slaves: the prisoners of addiction and the prisoners of envy.
—Ivan Illich
from
Todd Farner's Cleverchimp blog
I was just checking out Todd's blog—he has a couple entries about his recent trip to China. Here is an interesting tidbit:
Lots of bicycles and tricycles about; perhaps 10% of the bikes and 25% of the trikes are motorized in some way, while perhaps two-thirds of all vehicles on the road we traveled were more efficient (i.e., lighter and slower) than, say, a Prius. I couldn't draw admiring parallels to the Netherlands, though, as unlike Amsterdam it seemed very clear that we in the car were expressing a superior class distinction. Generally, the cars are shiny and the people driven by them are in a hurry, with something to prove, while the bicycles and especially the trikes are amazingly decrepit and driven by people of hard means with dour resignation.
...
But the very deepest incomprehension followed the explanation that my particular bike motorization scheme compels the rider to pedal; it was as if I were mentally handicapped about the purpose of a motor. Indeed, many riders of the popular motorized bicycles in Beijing remove their feet from the stationary pedals and rest them awkwardly on the downtube as if to advertise their arrival to the new leisure class.
—Beijing Brompton diary: part two
It just gave me pause.
I'm thinking about my own life, of course. This morning I had a public transit malfunction of epic proportions, but at least I got about a half hour's walk in. But had I ridden my bike? I would have been in in less than half the time.
I was thinking about the guide as well. It's my excuse to go out and try new restaurants and taverns. After all, I have to do those daily entries. However, am I contributing to consumerism? Yes, definitely. Should we go back to a time where going to a restaurant was a special event? No. If anything, I wish for an idealized history of corner stores and corner taverns, where we were much more connected to our communities.
This, I think, is what I find so compelling about what Jon is doing at BikePortland. He's building community. Bridges between the various bike cultures. He's out there, talking to people, going to meetings, etc.
Anyways, two different issues, consumerism and building community. The latter is where the guide is falling down.
I went through the stats this morning. I was sobering. The guide gets a lot of hits, but everything in this domain gets many, many, many more (like the person doing a web search on "fat woman on a scooter"—yikes, the truth hurts). I need to do some promotion!
...
I was invited to a happy hour press meet-and-greet yesterday. It was at a place I particularly dislike, but hey, free beer and food, so I set out walking there anyways.
I walk in, and the entire room is full of people. Someone directs me to the person with the name badges, and it feels like it takes forever to get to her. She takes my name, gives me a blank name tag, and pushes me out of the nest. I have no idea how or where to get beer (and maybe I misunderstood—do I have to pay for the beer?). I know not a soul in the room. I'm not really even sure why I was invited.
I looked around, and recognized some names, but they were already in conversations and inaccessible in the crush of people, and tables. So I bailed.
This is very different from a schmoozing event, where the schmoozers are driven by potential jobs or sales—really, all I had to gain from this was the free beer and snacks—though I would have liked to meet some of the writers.
But would it have been so hard to have several people staffing the check-in table, and have each of them briefed on who does what, or, at the very least, the art of making conversation? They could tell you, for example, how to get a drink. Or better yet, they could be sure that you got one. And then have a couple of other people who are standing nearby as icebreakers, so the checker-inners could pass the new person off to them? So, the new people have a contact, a face, a name... and a drink?
If you had a party at your house, you wouldn't let people wander in alone, not knowing anyone. No, you'd take their coat, get them a drink, introduce them to someone you think they'd like to talk to. Why shouldn't a networking event also work that way?
March 20, 2006
happy spring!
Today is one of those days. It's so damn beautiful outside—sunny, with the merest hint of spring in the air—and everyone is feeling it. It's energizing. Wuhoo!
I guess this is the first day of spring, after all.
It's been a good day so far. I got together with Jonathan from BikePortland this am for coffee (though we both had OJ) and we talked a lot about blogging, PR, blogging, bike culture, blogging, activism, blogging and remaining true to our peeps. I have been so focused on the guide... but I'm hopeful that I'm going to become a little more well-rounded again soon.
Anyways, great to see Jon, and then I came into work and learned something new. Damn! I wanna learn something new every day!
I had a great, though crazy weekend of running around Sellwood, cleaning, and some beer brewing. Yesterday afternoon, we had some time left in the wort boiling process, and it was just Sweetie and I. We sat on the back porch in the sun, in front of our boiling beer. Incredibly relaxing.
And everyone was relaxing. Daphne had decided to go elsewhere when lots of people were over, and she's not that crazy about open flames on her backporch. But she came back, and Echo came out, and they curled up together in the old dog bed that was put in a plastic chair.
March 15, 2006
another dream
It's somewhat ironic that Neca tagged me as having weird dreams, because I had another whopper last night!
So, I dreamt I was on a trip with Sara. Or, maybe we both just happened to be in the same exotic place at the same time? Anyways, we were in the big exotic foreign... thing. Like a coliseum, or european public market, or a mall, or a train station. Imagine big space with the exterior ringed with shops/restaurants/cafes, and doors to the outside. We see a booth/stall/business, and it's mostly obscured by sheetrock*, and so both of us are like, what is that? We gotta know. We're overcome with curiosity.
Well, we remove the boulder or whatever is holding us back—whatever, it's huge. We go in, and it's basically a table of religiously themed jewelery: I am struck by the most gorgeous rosary-esque necklace in a light green variscite-like stone—it's gorgeous, I've got to have it. But it's really unclear what language they are speaking. Then Sara starts speaking this flawless french** and procures the necklace. My hero!
Then we start to leave, except it's not clear where the exit is.
So we start moving quickly down these tunnel-like hallways. They aren't small or low-ceiling, but they're obviously not designed for the public. We go upstairs, downstairs, through doorways, into offshoots. We finally come into what appears to be the end of the line: the hallway ends at a puddle of water with a ladder reaching up to a platform which has 2x4s x'ed across its entrance. There's a door there of course, but it doesn't look like it's a real door.
By this point, we are a crowd, and the despair is palpable.
I immediately backtrack. There has to be a way out! And taking a non-descript hallway, which leads to a room which becomes another hallway, I find someone coming out who says, yes, that is an exit. I excitedly run back to the crowd and tell them the good news—that I just encountered someone who pointed the way to the exit. Then I realize that I should have checked to see if it was the exit. Man!
But we go follow his directions, and sure enough, we open a door and end up on a live railway platform. Like, the rails are about 3 feet away from the door, and a railway employee is standing on his shallow platform, and motions for us to be careful. Uh, we were looking for the exit, I say. Oh, he says. Just go upstairs, and points to a stairway behind him. And we do. And we're back in the train station, but now the doors are clearly visible.
WTF?
* The obscuring by sheetrock is no doubt a reference to My Place of Work. My building exterior is being remodeled and so they have sheetrocked over the external entrances to the store and the coffee shop. It's a big PITA because in so doing, they closed (and for all intensive purposes, put out of business) our tiny little coffee shop which made very variable coffee and fairly reliable espresso, some of the best breakfast sandwiches in more than a 4 block area, and the world's fastest lunches. The building has wanted to force the coffee shop out for awhile, which seems so silly given that it has prime realestate available on two of its four sides. Hrrrmph!
** Sara and I went to the same college but not at the same time. That college requires you to be proficient in a language by the time you graduate. Sara was proficient in spanish, me in french and german. (At least she uses hers!)
March 14, 2006
energy
There was a guy on the bus—you know, there generally is. He was standing up by the driver, talking to him loud enough that the rest of us couldn't help but hear. He started going on about his lottery winnings, in the millions of dollars, about his truck, his acreage, his guns.
I of course just wanted to go up and ask him—if you won the lottery, why are you on the bus?
Would I ride the bus if I won the lottery? I could be so wrong, but I think I would. I have bad experiences so rarely, and if nothing else, it's great people-watching. It ends up being me time too—I can't work on the guide, I can't work on work, I have to do something like... look around; read a book or the paper; knit something; start a conversation.
Of course, I have a deadsimple bus commute. I walk two blocks from the house, wait at a stop for a bus that comes at least every 15 minutes, which drops me about 1500 feet from the door of my building. I bought my house with bus commuting in mind: but specifically, bus commuting into downtown. If I worked somewhere else, like not downtown, where I would have to change buses, that wouldn't be so much fun.
I spent my time on the bus working on my sample knitting—doing a stitch I had never heard of, and now am just baffled that I didn't come up with it myself. It's so cool—I'm getting paid to learn something. Even though part of me is bristling at the deadline.
It been a good series of days. I've had good energy and actually gotten some things done. Yesterday, I went on a scooter ride, and ran into Hollie (the runner, not the cheesepuppet). It was wonderful to see her, wonderful to feel her intense energizer-bunny enthusiasm and soak a bit up. Last night, I met with a local beer PR person to learn more about the beer scene in town—that was fascinating, and she was quite enjoyable.
This morning, I got up early, and actually kept up on the momentum.
Sweetie brewed beer Sunday, which ended up being a social occasion. Oh, and we tried his first brew: it was good. A porter. If I bought it, I wouldn't feel disappointed, which was kinda exciting. Dude!!
March 10, 2006
kitten alert
So, with each step, I feel my core. And it's not very happy.
I've heard the class chat about how your core is your powerhouse, how it enables everything. And every now and again, I have the opportunity to remember this. Like now.
But in spite of this, or because, I didn't go to pilates last night. I suck.
Other than shirking essential responsibilities, I'm doing pretty good. Feeling focused, setting small goals, following through. This probably isn't big deals to most of you, but after the last little cycle of depressive periods, it's pretty darn exciting for me.
As usual, I can't do anything halfway. I'm concerned with search engine findability at my place of work (MPOW), and so I am concerned about it with the guide as well. I really have a lot of work to do on the guide... I've been learning the hard way about categories, and being overenthusiastic about them. 'Nuff said there.
It's been snowing here but not sticking. Big fluffy beautiful snowflakes. I wanted to get a picture of the backyard this morning, what with the snow flying and the daffodils blooming and the fence falling in, and the world's cutest kitten sitting on the one stable part of the fence. But then Echo started barking at the world's cutest kitten, and I became distracted.
The world's cutest kitten belongs to my neighbor Theresa I'm told, though I haven't seen Theresa outside of when one of us in driving or riding by in months. But, it's a sylvester, with black face all over except for a little ascot and socks. It's tiny, and totally outgoing, and so damn cute that a person could just kotz. I worry though—such a little kitten, ranging around our busy street, and our even busier cross street, by herself.
March 8, 2006
Ack!
I guess I just needed to write that entry, because as I walked away from my chair, I was doubled over in the most incredible stomach cramp EVAR! Yikes.
results, results
I rode the scooter down the driveway this morning, and for the first time ever, almost tipped. It was rather exciting. Even more so because I was wearing a skirt with no leg armor. Note to self: get leg armor or c@rhart pants.
Sweetie and I opened a bottle of his first batch of homebrew last night, and, it was good! Really good, actually. This is so tremendously exciting.
Pilates was very hard, very very hard, but I stayed the course. I worked hard. It was the first class of the session, so I was expecting hard. As usual, I was struck by the fact that people who barely know me remember my name, and my pilates instructor—well, not so much. Do I expect too much after a year plus? Obviously, yes. I expect by this afternoon that I will be disabled with core pain. Bring it on.
What else to tell? I've been completely obsessed with search results. I mean, I am configuring a search engine now, so it makes sense.

March 6, 2006
the School of Respect
I share an office. With a moody person. I like her, but sometimes she swings from seeming very happy to see me to resenting me taking up space on earth. I'm not kidding myself, I'm certain I'm not easy to share anything with, but I try to be nice, respectful, warm. It's hard not to take these things personally.
Anyhow, I had a good weekend. I did a little decluttering, took some stuff out to the car, and worked my way through the book I was reading (Bulletproof Web Design by Dan Cederholm). We got a new floor lamp to replace the one I broke while vigorously cleaning before the winter beer tasting. I looked at cheap lawn furniture that won't mold in the 3 seasons of dampness here, unlike the used furniture that we have on the back porch now (oogh). We went out to the furthest reaches of the suburbs to hit the brewing supply store that is open there—the only one in the metro area that's open on Sundays. While we were there, we picked up some food at one of my favorite Mexican restaurants, that I never ever go to because it's so damn far away.
Oh, and I got the sock yarn and pattern that I had volunteered to sample knit for, and, umm, it's lace. Doesn't look like an easily memorizably pattern either. Dude, I am so screwed. I'm looking forward to seeing what they look like when they're knit, but I wish I didn't have a deadline.
I rode my bike in today though. It was great. I rode my bike, Pinky. I'll worry about getting home later, maybe just walk it up the hills. I need to keep the fun in biking, yes. I went and turned in my pile of overdue library books on the way in—so terribly convenient, bicycling right up to the book drop, and getting that feeling of having accomplished something already.
Am I the only bicyclist who stops for stop signs? I just don't get it...
March 2, 2006
darkness, blinding light
I hate the fact that it seems I have to have realizations over and over and over before it dawns on me that action is needed. Not just thought.
It was snowing here just a few minutes ago. That was good.
But I'm having a cranky day. So, um, anyways.
I just got an email, sent to a group of female librarians, that cracked me up.
I had a blast last year with you all but I just love men.
I don't know why that cracks me up so much, but it does.
So, men that I love.
- my sweetie
- my Dad, RIP
- David Pogue (technology writer for NYT and O'Reilly)
- Matthew, who does the Woot! podcast
March 1, 2006
two steps forward
Well, progress in some areas, at least.
I did the Salmon Street Death March yesterday by myself, in under an hour. That's 15-30 minutes quicker than it goes with my coworkers. It kicked my ass. But that's good. I hit my stride as I was going up the hill by the MAC Club, and my legs felt all strong and athletic, my muscles taut and rubberish (in a good way). Woot!
The financial austerity experiment has worked out. I actually put money into savings because it was left over in my checkbook. It's been a really long time since I've done that. Woot!
And, I went to pilates last night, which kicked my ass. It occurs to me that the ass-kicking might well be mostly related to my inshapedness (not much) and my fatness (significant), and that your mileage may vary. Anyways, I did it, it hurt, and I ache today. Pleasantly.
I am still manicly excited about the new search engine I'm configuring...
And then, one step back. On one of my knitting mailing lists, someone came forward asking for samples knitters. I didn't entirely know what that entailed, I figured maybe knitting swatches or knitting one sock or some such. Well, actually it's for a pair of socks. I immediately signed up. What was I thinking? Yeah, I need another deadline, another something to distract me from my extreme fear around career development. Good idea, VJ.
Anyways. I'm reminded of the AA story about the guy and the hole. At what point do I start seeing the hole before I fall in?
Today is beautiful. The sun is out, the sky is dappled with clouds. I scooted in this morning, thinking I needed to get to work as early as possible because I thought the search engine hadn't done its nightly crawl. I should have checked it this morning, because I got here, and it was all systems go. Oh well.
So I rode the scooter to the garage where I usually park it. I haven't been there in a while. And it was so cool. I park the scooter, and the woman working the booth waves excitedly. I love seeing her, she is sweet and nice and outgoing, and always happy to see me. And happy again. Maybe she's like this with everyone? Nah, don't think so. It was nice, made me grin ear to ear.